Manuel Hughes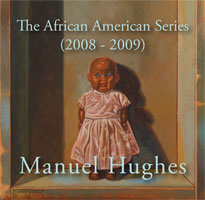 We produced this special catalogue as a means of documenting the collection of recent work by Manuel Hughes and to provide an affordable way for the work to be seen and appreciated by an even wider audience.

We have printed a limited edition of 50 hardcover catalogues of images selected by Manuel Hughes from The African American Series (2008 - 2009) and each of these catalogues has been signed personally by Manuel Hughes. This catalogue is the culmination and acknowledgment of hours of loving labor and days of sleepless nights but is still only a small reflection on a life devoted to the pursuit of fine art and the development of an important aesthetic voice.
I am most proud of documenting this fantastic body of work during one of the most historically significant years for the United States of America. On the eve of a seismic change in our political landscape, it is only fitting to look into the soul of our past to see from whence we came and where our hopes for our future may take us. We have come a long way from the segregated nation into which Manuel Hughes was born.
-- Lisa Louisa Bryant, publisher.
For inquiries about "The African American Series 2008 - 2009" please contact info@manuelhughes.com